Host responsibility
Find information for serving alcohol at parties, school functions, workplaces, sports clubs and on marae
Whether you're a professional or a volunteer - if you're working in a licensed or unlicensed venue, there are things you need to know to make your event run well.
When serving alcohol, there are many things to consider. You have responsibility to your visitors around the serving of alcohol.
By being properly prepared, everyone can enjoy themselves. This section directs you to practical information about serving alcohol responsibly.
Licensed premises
Do you know when your customers have gone too far? Do you recognise the signs in your customers that tell you it's time to intervene and give them a break? The Intoxication Assessment Tool below can help bar and door staff to monitor intoxication on licensed premises.
The tool, available in a pocket card size and as a poster, describes the various signs of speech, coordination, appearance and behaviour displayed by someone who is sober, someone who is affected by alcohol and someone who is intoxicated. It can assist bar staff in their management of intoxicated patrons in their bars and also the regulatory agencies in their monitoring and enforcement roles.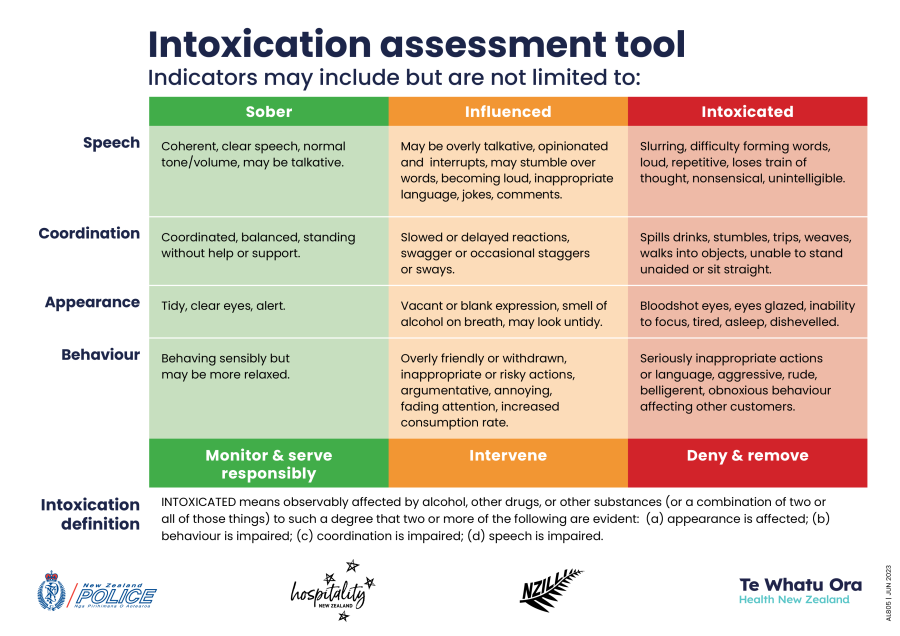 ServeWise
ServeWise is a national e-Learning tool developed for sellers and servers of alcohol.
ServeWise provides users with an understanding of the Sale and Supply of Alcohol Act, with a strong focus on intoxication, minors, server intervention and host responsibility.
The ServeWise training is tailored to meet the needs of both sellers of alcohol in off-licensed scenarios (ie, bottle stores and supermarkets) and servers of alcohol in on-licensed settings (ie, bars, restaurants, cafes, clubs and entertainment venues).
It has been developed in response to a demand for improved standards of training and the creation of a level playing field across on, off and club-licensed premises.
The modules in the online training take approximately an hour to complete and are free of charge.

Thank you for your feedback.